Coast to Coast Seminar Series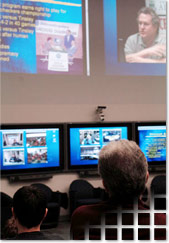 The Coast to Coast (C2C) Seminar is an hour-long presentation given on a scientific topic and is made accessible to audiences at a number of remote sites across Canada through collaboration technology.
The Schedule, Subjects & Locations

C2C Seminars are held every two weeks throughout the academic year alternating between the West Coast and the East Coast of Canada. Learn more about:
An article titled "Remote Collaboration: Six Years of the Coast-to-Coast Seminar Series" was recently published in Science Communication.
Learn more about the Seminar Series.
The Players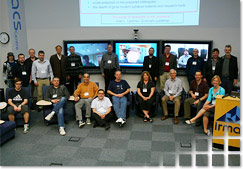 The history behind the Coast to Coast Seminar Series reflects its growth across the country. Initially the Western and Eastern sites were the IRMACS Centre, Simon Fraser University, and D-Drive from Dalhousie University exclusively, but as the series grew, and included other universities, presentations in the series have also come from the University of British Columbia, the University of Alberta, the University of Calgary, the University of Lethbridge, and the University of Manitoba in the West, and from Acadia University, St. Francis Xavier University, Memorial University of Newfoundland, the University of New Brunswick, McMaster University, Brock University, and the University of Toronto in the East.
The ACEnet, HPCVL, SciNet, and WestGrid networks distribute the series.
The Goals
The Founders, Drs. Peter and Jonathan Borwein and Dr. Veselin Jungic, created the Coast to Coast Seminar Series with the intention of providing an opportunity to scientific communities from various Canadian universities to collaborate and share their interests. The secondary goal was to set the standard for these types of events and to explore further the possibilities of the use of the available technology. As the series has grown in the number of collaborators, presenters, and audience members, so has the number of goals. Learn more.